I've continued to review and digitize the photo archive that I found in my father's apartment after he passed away three months ago. I use the word 'archive' loosely.
Beyond the several large photo albums my mom curated for the three of us as I grew up, my extended family's photo history was scattered about in various envelopes and small boxes. There was almost no organization, other than some photos being grouped together.
Some were still in envelopes with their matching old-time negatives. Other negative strips were unaligned and stuffed elsewhere. Almost none of it had any identifying information or key dates.
Please Do your Homework
The good news is this wasn't the first time I had seen any of the pictures, like this photo of my father and grandfather on their trip to visit Plymouth Rock in Massachusetts.

I did previously know where some of the family treasure lived. I had talked with my father about a fair number of these photos, and I had made copies of the old prints with my iPhone. So, I had some information, but not the whole picture.
But across these recent weeks, it's still been like a puzzle, trying to figure so much out. The most frustrating part of this massive exercise is simply date stamping the pictures and putting them into a chronological order.
Many of my decisions have been based on how old people look in the shots. That's been easiest when reviewing photos of my father and his brother as children. But it's still guess work.
It would be so much easier if someone had simply written the who, when and where on the back of the photo. Even just the year would be gold.
Find the Family Historian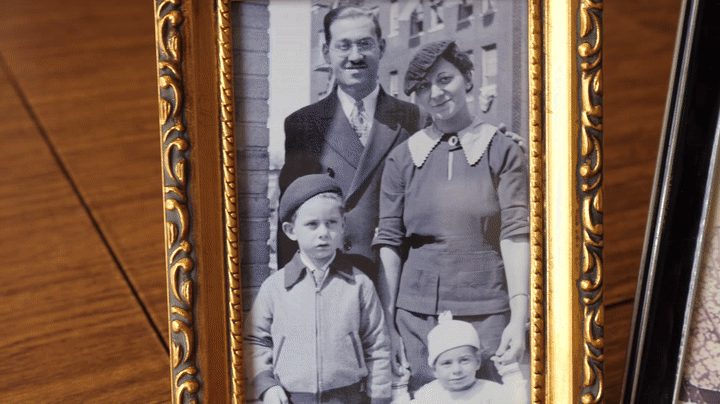 Through the clouds that mask many of the details of my family's visual history before I was born, there is one sunny spot that offers stunning clarity.
It's owned by my father's mother Rae.
My grandmother's life was tragically cut short in her 30's when my father was just a young child. So, I don't really know much about Rae other than she was a teacher. But I've found photos of her that reveal other pieces of her life, ranging from her teenage years up until the time she died. And she dated many of her photos along with where she was.

Wow. I have to give a huge shout out to my grandmother for the important breadcrumbs she left behind for me.

Thank you, Rae. I can only imagine the visual story of our family you would have curated had you lived longer.
Dust off the Negatives
I've been using my Wolverine F2D Titan Film to Digital Converter to bring back to life the images buried in the old negatives I found. My efforts have revealed remarkable scenes I've never seen before.
Even though you'd think there would be matching photos for these negatives, I've only uncovered a few. Perhaps back then, people printed out just a couple of photos from a group of negatives. Or maybe the photos and their albums are simply long gone.
But the negatives survived. Though ignored, they were somehow passed down for almost a century. Now, I've got them, and I feel like I've accessed a time machine. I've opened a portal into the past.

Here's a converted negative of my father's family in the mid 1930s… my grandmother Rae with my grandfather along with my uncle and my father as children. (My dad's the tiny one!)
Something tells me that Rae orchestrated this family portrait. She understood the importance of it all. (I think she would have really liked Instagram.)
Fill in the Gaps
As you might imagine, I immediately printed out and framed Rae's family portrait. I placed the frame on a shelf next to our fireplace. And then I stepped back and took it in.
It was a bright spot in the storm of the past few months.
But something still bothered me.
Time to Start Leaving Breadcrumbs
Later in the week as I worked on digitizing other photos, it finally came to me. I had printed out and popped Rae's family portrait into its frame, but I had made the same mistake as most all of my ancestors had… save Rae.
I didn't write anything on the back of the photo!
I spend so much time curating my own digital family archive. Who knows how well it will survive the ravages of time, especially after I'm gone. But what about that photo I just threw in the frame?
Of course, that's going to be the picture that somehow survives into the 22nd century. And perhaps my great grandchild will open up the frame looking for information on the back of the photo regarding these strangers.
I really hope that's not the story, and somehow I can do better to ensure my family's visual history gets properly passed forward.
But…
Create a Letter in a Bottle
I walked back to our fireplace and picked up the frame… I mean I picked up my little time machine. I opened it up, flipped the photo over and wrote in the critical details.
I put the frame back together and returned it to its spot. This extra step took only 15 seconds, but it tethered the image to its past and prevents the identities of these precious people from being washed away by time.
I stepped back again, but now I saw something else.
I could see Rae's family photo in a glass bottle, floating away in a vast ocean. It was properly provisioned for its long journey into the future.
Bon voyage.