Essential Tech I Use and Why
by
Barrett
I see myself as an everyman (person) who successfully uses his tech (usually) throughout most days in life. I've done my research and also have a decent track record on my specific gear choices. While I'm hardly an authority… I'd like to think I offer an informed point of view.
There is also an ever-increasing amount of choice out there, and figuring it all out can be a complete time suck. The 'best choice' is an elusive and always-changing equation. So, my strategy has always been to find what works (at a competitive price where possible) and stick to brands that hold up over time.
Most of all: Keep it simple…
If you think that reading about the essential tech I've chosen (or covet) for myself might be useful towards your own tech-selection process, then I've got a little list to share…
Ten Technology Choices to Help Get You through Your Day
1.  Smartphone
I upgraded from my old iPhone 6 Plus and finally convinced myself there was no need to supersize it to 512GB. So far so good…
2.  iPhone XS Max Case
It's tough and looks like it comes from the alternate universe in the TV series, "Fringe."
Plus, I like saying it's made with Kevlar.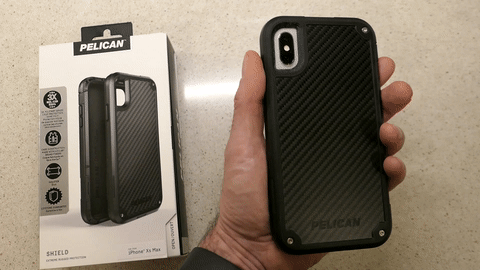 Enough said.
3.  Watch
After three years of self-control, I couldn't stand not trying one of these out. It was an instant success… Not only have I been loving my Apple Watch, it's also focused me on 'getting my steps in.'

And now, I don't have to think about what watch I'm going to wear tomorrow!
4.  Computer
I began using Macs fifteen years ago due to the advanced multimedia applications, and I never looked back.
Do I feel the need to upgrade to the 2019 model?
Nope. Not yet… I'm doing fine with what I have.
5.  Back-Up Drive for your Computer
I'm a big fan of G-Technology Drives (now owned by Western Digital).
The G-Technology 4TB G-Drive USB 3.0 goes for $129.95 on Amazon Prime.


It's what I use for my iMac's Time Machine backups…
6.  Portable Back-Up Drives
Yes, I'm sticking with G-Technology again…
My go-to choice is the G-Drive Mobile USB-C.
I always grin and shake my head at how digital-storage pricing continues to drop…
7.  Cloud Backup
You do have a cloud backup plan in addition to your local backups, right?
I've been using Backblaze after CrashPlan broke up with me.
Offsite backup should always be a part of your strategy…
8.  Premium Point-and-Shoot Camera
Compact cameras that use 1-inch-type sensors can capture better photos than your smartphone…especially in low light.


Being able to freeze that July 4th fireworks moment is priceless!
Yes, these premium compact cameras are expensive, but if you're serious about capturing great photos without blur and don't want to carry around a big DSLR, this is the camera category for you…
I use Panasonic's Lumix DMC-LX10. It's a couple of years old, but still on the market and now at a discount…
$497.99 on Amazon Prime


I enjoy using my LX10, but If you'd like to know the camera I really covet, and what I'd buy today…
It's the Sony DSC-RX100 VA… $898 on Amazon Prime.
(No… not the newer VI model. That's because even though the VA has a smaller zoom, it's got a faster lens that can better capture action in low light.)


This is my friend's new Sony DSC-RX100 VA.
The RX100 series has always seemed to set the gold standard for this category. Yes, it's expensive, but I think it's worth it.
9.  Action Camera
I picked up a GoPro last year as a family vacation camera, and I found that it really can enhance your vacation's fun. A GoPro is small, durable and waterproof… so you can take it to the beach without worrying about a grain of sand crippling a retractable zoom lens. Plus you can snap great underwater shots!


It's also incredibly fun to use during pool time!
The GoPro HERO7 Black is $343.68 on Amazon Prime.
10.  Wireless Mesh Router
When I replaced my old Apple AirPort Extreme WiFi router, I went with the two-unit mesh WiFi system made by Netgear Orbi.


The Orbi RBK50 (next to my Sonos speaker) costs $279.79 on Amazon Prime.
Mesh WiFi is a game changer… bringing new meaning to the idea of whole-house WiFi.
(I highly recommend it.)
If It Fits Your Budget…
I imagine some of you might be questioning whether all of this gear appropriately belongs on an 'essential' list.
While it would certainly be difficult today to operate without a smartphone or computer… does anyone really need the always more-expensive devices made by Apple? Of course not.
But I would also add that there's value in working within one digital ecosystem. And not that you couldn't also do that with other brands… but, hey… Apple's always been a good bet… Period.
And no, you don't specifically need home WiFi or a GoPro to survive, but I think it's fair to say they've contributed to maintaining a level of digital homeostasis in my life.
That's a fragile equation and always worth acknowledging… and enjoying when you can.