I'm not proud to admit that I carried four cameras throughout our Southwest vacation to be prepared for whatever wonders awaited us. I packed my Panasonic Lumix GH5 II, my smaller Panasonic Lumix LX10, my tiny GoPro and my little DJI Osmo Pocket gimbal. Plus I had my iPhone. So that actually makes five cameras.
Good Things do Come in Small Packages
The good news is with the exception of my larger Micro Four Thirds GH5 II, the rest had small profiles and were easy to pack or throw in a pocket. I'm also happy to report that I did find moments to put all of my gear to good use.
That said, besides my iPhone which was always there for me in my front right pocket, my most useful camera proved to be my tiny but mighty Osmo Pocket with its magical timelapse creation abilities… perfect for sunrises and sunsets.
I popped it on top of my Manfrotto Befree Live travel tripod, set up the timelapse for 20 or 40 minutes and let it run while I took photos with my other cameras.
My Osmo Pocket captured some really satisfying timelapse videos.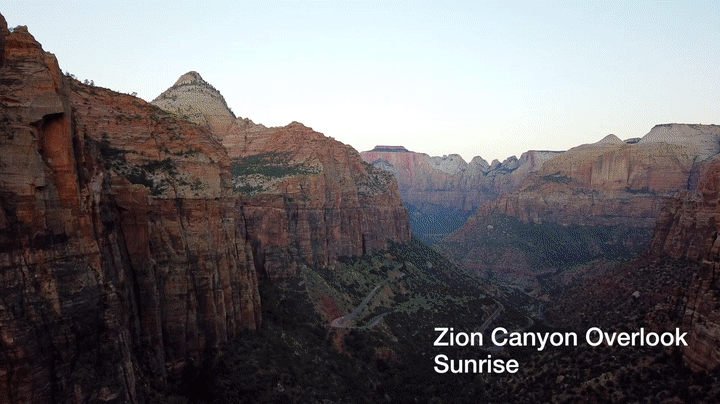 This edited timelapse video contains my shots from Zion Canyon, Bryce Canyon and Grand Canyon… all amazing places. (Here's our itinerary.)
Deconstructing my Shots
I took the first Grand Canyon sunset timelapse at the overlook near the Yavapai Geology Museum at the South Rim. This is not the most popular place to go for sunsets, which meant there were fewer people packed into the good spots and more room for me to spread out with my gear.
I positioned the second Grand Canyon sunset timelapse steps away from our room at the Bright Angel Lodge. It was already too dark to start the timelapse and really see inside the canyon, but the cloud movement was magnificent.
I think the second Bryce Canyon timelapse really works because you can see tiny, ant-like hikers moving around in the bottom left corner. It give the perspective the shot needs.
Plan your Timelapse Shoots into your Family's Vacation Schedule
When you're traveling with your family, plopping yourself in a space for 30 minutes to capture your next timelapse can be disruptive.
A word of advice: Don't be spontaneous. Plan ahead and announce your intentions. And don't do too many across a vacation.
It's all about balancing your family's vacation time so that everyone gets an opportunity to do what's special to them!